Champagne Pink Toran Trail Beaded Curtain
Posted on Oct 18th, 2011
'Torans' or embellishments on doors have traditionally adorned Indian homes to welcome guests with good wishes and blessings as they enter a house. Torans are typically bright colored and vivacious and made of cloth, glass, mirror or even fresh leaves.
We have designed 'Trails' or 1 to 1.5ft long bead curtains to be used as Torans or around the house where they add embellishing on the frames of doors and windows without separating spaces.
Champagne Pink Toran trail Bead Curtain is made of champagne small oval flat transparent glass beads and pomegranate pink large oval flat transparent glass beads.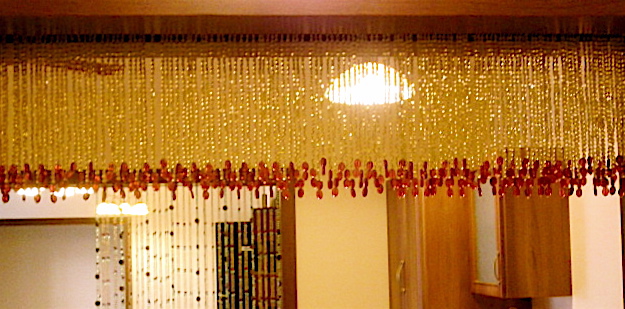 Other Toran Trails, CLICK ON IMAGES BELOW TO SEE MORE IMAGES OF THE 'TORAN/TRAILS' BELOW:

More examples of Toran Trails….